It appears as though the number of nursing board complaints is on the rise. Please seek legal representation anytime you must face a board of nursing inquiry. You wouldn't represent yourself in a major criminal case or civil lawsuit, so don't make that mistake because it's "just the board of nursing." The things that happen as a result of a board action will affect your ability to practice your profession for a long time.
The board of nursing's primary function is to protect the public from unsafe nurses. While they will hopefully try to advocate for the nurse as well, don't expect that they will. Because of the lack of understanding the profession has regarding substance abuse and addiction, many boards of nursing take a primarily punitive approach to a nurse afflicted with this disease. This may even happen in states that have an alternative to discipline program in place.
NEVER, EVER SPEAK WITH A BOARD INVESTIGATOR OR THE BOARD MEMBERS WITHOUT CONSULTING AN ATTORNEY!
You have rights, be sure they are protected. Anything you say during the investigation can be used against you in a court of law and in the boards decision.
Your attorney for the board investigation should be familiar with administrative law AND dealing with the board. That's why I recommend an attorney who is also a nurse. For criminal charges, get a criminal attorney familiar with drug related issues and laws.
Professional Liability Insurance
Many nurses don't have their own malpractice/liability insurance, relying on the insurance coverage of their employer. While many employers (not all) will provide some professional liability coverage, chances are that coverage may have some serious gaps, including:
Policy limits may not be high enough to cover you and all your colleagues

You may not have lost wage reimbursement, licensing board hearing reimbursement, or legal fees reimbursement

You may not be covered outside the workplace (examples include volunteering and part-time jobs)

You may not be covered for suits filed after leaving your position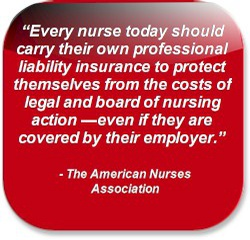 Professional Liability Insurance protects you against covered claims arising from real or alleged errors or omissions, including negligence, in the course of your professional duties. Remember, legal defense and settlement costs are paid in addition to your limits of liability.
In the event of a lawsuit, your own Professional Liability Insurance policy would:
Provide you with your own attorney

Pay all reasonable costs incurred in the defense or investigation of a claim

Pay your lost wages

Provide reimbursement if licensing board issues were involved

Pay court costs and settlements in addition to the limits of liability
Consult with a licensed insurance provider regarding the type of policies they offer for nurses. Follow the links to the left for more information.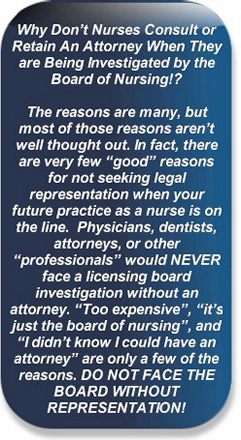 Copyright © Peer Advocacy for Impaired Nurses, LLC, 2008- 2011 All Rights Reserved.
Disclaimer: A link does not imply I endorse the service or product. The links are for informational and educational purposes only.